First Droid Fleet
Since the development of the first droids many thousands of years have passed. Droid have shown intelligence and personality traits of near-human resemblance, and show capacities that go beyond any sentient being. The Republic Military Research and Development Department have been developing intelligent systems for all those years, trying to look for ways to keep their troops safer, as well as keeping up their duty of protecting worlds from invaders, or other threats.
The Republic fleet had been building for years, but only in the past 75 years have they been producing these "Droid" ships. And as the Sith engaged in war, investors started pumping more money into military production; the many shipyards in control of the Republic started producing more and more vessels, saving on people by producing the Droid ships. After the Seige of Corellia, the Droid Fleet was mobilized and a second Flag Ship was put under construction.
Models:
"Trooper"
Units on the Ground Assault Cruisers designed to take down hostiles on ships swiftly.
Equipment: E-11, sense 1 (thermal scan), Pistol, 3 Thermal Detonators.
"Naval Unit"
These are not actual droids deployed on ships, but the program integrated into the ships controls; AI units. Because personnel was no longer needed on the new vessels, they could be built much more efficiently, only needing to be led by smaller personnel carriers, command centres for manual control, though not always needed.
"Repair"
These tiny units actually buzz through the shafts of the droid vessels conducting repairs and maintenance where necessary, as there we no passages big enough to fit humans, nor life-support on the ships, other than the Command Ships.
Capital Ships:

The Lady of Justice
Unit type: Super Capital, Flag Ship
Length: 18.560 metres
Description: Flag ship of the Republic Droid Fleet, this vessel was a hive of artificial units, controlling all the different systems. Capable of carrying tens of thousands of fighters.
Number of ships built: 1 (Second under construction, finishing production during the time the server's down (new-year's, right?))
Republic Cruiser
Unit type: Capital
Length: 1.080 metres
Description: The main body of the Droid fleet, these ships were capable of carrying a few thousand fighters.
Number of ships built: 370 (20 more each IRL week)
Iceni
Unit type: Capital
Length: 2.500 metres
Description: The Iceni is in a class of its own. It has slightly better armour than any other corvette, nearing that of a destroyer, and is a very quick for a vessel its size. It has massive primary fire-power in the form of 3 Particle Beam Cannons, but lacks too much of an anti-fighter capability. The main reason why this vessel was built was to quickly reach multiple points and fend off most threats along the way. It was designed to be able to make quick jumps with minimal damage, and redundant engine subsystems help accomplish that.
Number of ships built: 180 (3 more each IRL week)
Cruisers and Frigates:

The Republic Corvette
Unit type: Light Assault Frigate
Length: 385 metres
Description: These units were specifically designed to take out smaller ships, be they other frigates, cruisers, or fighters. Housing two fighter squadrons.
Number of ships built: 550 (45 more each IRL week)
Republic Command Ship
Unit type: Droid Command
Length: 231 metres
Description: The only ships in the fleet with living beings on them, these ships are used to guide the rest of the fleet through a battle with manual input. If a fleet commander on one of these ships sees a tactical manoeuvre that can turn the tide of the battle, he can instruct all the AI in the fleet to engage in the tactics. These ships do not have much fire-power but are protected by the best shields the Republic Military can offer.
Number of ships built: 125 (5 more teach IRL week)
Deimos
Unit type: Corvette
Length: 717 metres
Description: Deimos-class corvettes are one of the newest additions to the Droid fleet. These sleek, ultra-modern warships are the products of a new era of ship design, maximizing manoeuvrability and fire-power. Although it lacks the raw fire-power of other corvettes, it is far more balanced in weaponry. Making it a good all-round offensive and defensive unit, along with a sizeable fighter accommodation makes it capable of taking on other cruisers and corvettes.
Number of ships built: 250 (10 more each IRL week)
Ground Assault Cruiser

Unit type: Low orbit assault frigate
Length: 478 metres
Description: These ships are most often sent to low orbit for bombardment. Piercing pods, carrying up to four Assault Drop Droids (Troopers), can be sent in to breach a ship\'s hull and engage the crew directly. Assault Drop Droids can be equipped with AI units that can be plugged into the enemy ship\'s data-core, so the vessel can be used by the Republic after it\'s been taken over by the Assault Drop Droids. This ship is used to clear out landing areas for the landing craft to land.
Number of ships built: 550 (45 more each IRL week)
Cerberus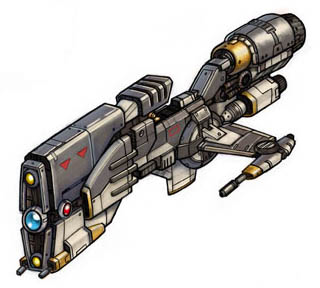 Unit type: Interdictor
Length: 120 metres
Description: Equipped with gravity well generators, these vessels made sure no vessel could enter hyperspace in their presence. Though it carried very little weapon systems, its shields were formidable.
Number of ships built: 300 (15 more each IRL week)
Fighters:

Republic Droid Fighter-Bomber
Unit type: Fighter/Bomber
Length: 12 metres
Description: Combining the speed of the fighter, and destructiveness of the bomber, this unit can react swiftly on dogfights, and take on capital ships in larger numbers. These units are stationed for deployment in all capital-class ships of the Republic Droid Fleet.
Republic Droid Starfighter
Unit type: Fighter
Length: 3,5 metres
Description: Designed to be fast and nimble, these fighters can out-run and out-manoeuvre most other fighters. These fighters can be seen sitting on the side of the bigger vessels, and marching along inside, also able to be stored compactly into the hangars. These units have been known to provide some support on the ground as well.
Republic Droid Bomber
Unit type: Bomber
Length: 5,5 metres
Description: The pure bomber unit was often guided to targets by Droid Starfighters to their targets.
Planetary Defense Units:

GTSG Trebuchet
Length: 50 metres
Description: The GTSG Trebuchet Remote Beam Cannon was a sentry gun armed with a special kind of beam weapon. Trebuchets were designed to guard against hostile warship entries. Its two beam weapons and three missile banks enable it to take on multiple enemies simultaneously. Trebuchets are also referred to as RBCs (Remote Beam Cannons).
Particle Beam Cannons: 2 (One anti-Capital, One anti-Fighter)
Deployment: In orbit of Republic planets. Numbers depending on the planet.
OOC Disclaimer: Credit goes to BlackJackel and Xode for several of the fleet\'s ship\'s descriptions and pictures.
Other OOC info:
-5000 years after the CIS droid army, these droids can actually match sentient combat, and react faster, too.
-This is *NOT* a replacement for the army and navy, but an addition. Since there not much of an approved army and navy present, they would be most present in the battlefield.